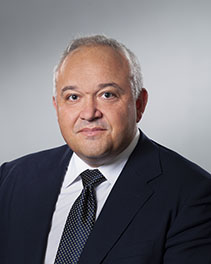 Deputy Prime Minister for Public Order and Security and Minister of Interior
Ivan Demerdzhiev
Ivan Demerdzhiev was born in 1975 in Plovdiv, Bulgaria.
He graduated in 2001, MA in Law from Plovdiv University Paisiy Hilendarski. He has 20 years of professional experience as a lawyer.
In February 2007, Ivan Demerdziev became a partner and manager in the legal company Demerdzhiev, Petrov and Baev. In June 2016, he became member of the Lawyers Council with the Plovdiv Bar Association and from July 2016 to 2019, he was secretary of the Council. In February 2019, he became Chairperson of the Plovdiv Bar Association. He withdrew when in May 2021 he took the position of Deputy Minister of Justice in the Caretaker Government appointed by President Rumen Radev.
In October 2021, following a Presidential Decree, he took office as Minister of Justice in a Caretaker Government.
After this term in office, Ivan Demerdzhiev resumed his legal practice. As a lawyer, he is well known for his firm positions on issues of public relevance. He has taken an active part in discussions on important matters in the field of justice.
Ivan Demerdzhiev was appointed a member of the Caretaker Government on 2 August 2022.
Bulgaria
Member Country - particular information
Ministry of Interior
29, Shesti Septemvri Street
1000 Sofia
Bulgaria
Telephone: +359 2 982-41-62
E-Mail: rkukushev.14@mvr.bg
Web: www.mvr.bg
Member of the SALZBURG FORUM since 2006
| | |
| --- | --- |
| Total area: | 110.994 sq km |
| Length of National Border: | 2.368 km |
| Total number of habitants: | 7.202.198 |
| Inhabitants/km2: | 65 |
| Neighbouring states: | GR, MK, RO, RS, TR |